Thank you for your interest in our art auction benefiting the No Limits Ranch. Our fundraising goal for this campaign is $6000. This will be enough to host all our families at no cost to them at our inaugural retreat in September 2021.
________________________________
If you love sunflowers or the IOD Painterly Floral Transfer is one of your favorites, you won't want to miss the opportunity to own one of the ORIGINAL early sunflower studies painted by artist and IOD Sister, Josie Celio.
About the artwork
This is a piece of original artwork signed by the artist herself. It was handpainted with oils on canvas as part of the creative development of the IOD Painterly Floral Transfer. It measures 17 inches by 23 inches and has been professionally framed. It's ready to grace your home and inspire your own creative endeavors!

This piece was donated by the Celio family and all proceeds minus the cost of shipping will go to the No Limits Ranch retreat experience.
About the artist
Josie Celio is a co-founder and creative force behind Iron Orchid Designs (IOD), along with her equally talented sister, Sally Griswold. With a mom who dragged them to roadside junk piles and hole-in-the-wall thrift stores, Josie was in love with all things vintage and DIY, long before it was actually trendy.
Her company innovates and makes a suite of products that embody their vision and passion for beautiful design through DIY. Whether you want to breathe fresh style into your life or you're looking for creative ways to transform your home, Iron Orchid is all about helping people express themselves with their brilliantly designed tools and products.
At the heart of Josie's work as an artist and entrepreneur is the belief that everyone is born creative. IOD has been a longtime supporter of Andy's artwork and the No Limits Ranch experience because of this belief.
"God created us to be creative like He is, and in doing so, we get a glimpse of Him."
Josie is happily married to her high school sweetheart and together, they have 6 beautiful children and a homestead with several farm animals.

Close up of one of the open sunflower blossoms
How to bid on this piece
Bidding for this piece is open now through 11:59 pm CST on September 14, 2021. To place your bid, please fill out and submit this form.
The highest bid as of September 2, 2021: $580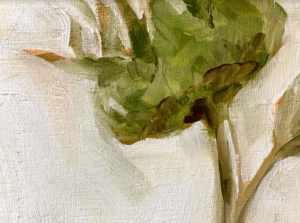 Close up of opening bud
How the auction works:
2. Three days prior to the auction closing, you will receive a notification of the current highest bid and you will have an opportunity to submit a new bid if you like.
3. Once the auction is closed, we will email and call the winning bidder. That person has 24 hours to submit the bid amount via our donation page. In the event the winner does not pay for the artwork in the allotted time, we will reach out to the next highest bidder.
4. Once we have received payment for a piece of art, we will notify anyone who lost the bid on that piece by email.
Our work wouldn't be possible without your generosity – thank you! To see all the artwork available for auction, please go here.
If you have any questions, please email us at nolimitsranch@gmail.com